Blog Archives
I recently visited the newly opened City Center in Dhajeej, and when I saw a container of Ching's Secret Schezwan Bhel sitting on the shelf, I couldn't resist but pick one up (yup just one).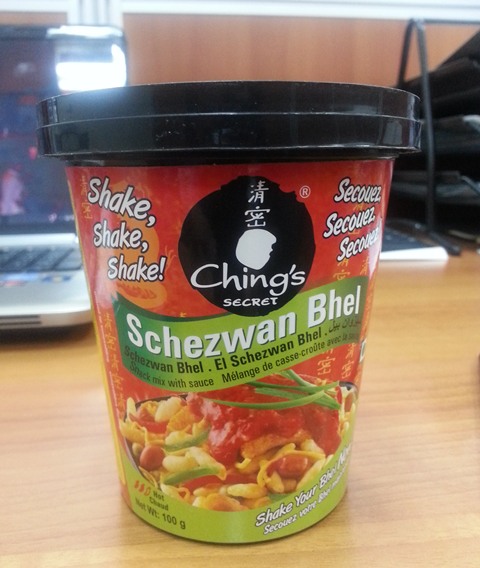 I was curious as to what kind of Shake, Shake, Shake – Secouez, Secouez, Secouez (snack mix with sauce) would taste.
Well the container consists of:  Bhel mix, Schezwan sauce, spoon and tissue… All you got to do is open, mix and eat; you actually have the container to mix it in!! More like instant noodles – the only good thing is you don't have to wait for it to cook, rather if you wait too long after you have mixed it up; it gets very tasteless, mushy and soggy!!
If you don't mind the spicy sweet sauce (and I mean spicy (for me) then go ahead a try it on the crunchy corn flakes and the rest of the ingredients…
Would I buy it again (hmnnnn I guess not)
Is it worth a try (of course – must try everything)
Have you tried it already – let me know…
It's been a while since I've gone to a Kuwaiti restaurant, so when a friend of mine suggested that I should try Maadenaa in Kuwait City – I decided to give it a go since I was in Kuwait City at those afternoon hours of hunger… Located on the 28th floor of Burj Jassim it offers a spectacular view of Kuwait and has an ambience much unlike any other Kuwaiti restaurants I've been to.
I tried the Mutabbaq Hamour (Rice with Fish) along with Gabbout (stuffed flour dumplings in a meat stew).
The Mutabbaq was excellent, which comes with Hamour fillet pcs, the only reason i always opt for Hamour cox i dont like to chew on the bones however I ended up with a huge bone in one of them – ouch. The gabbout was good too, my only complaint would be that the dumplings were a bit too thick which at times masked the flavor of its stuffing. The portions were huge which left me too stuffed to try the desert so I opted for the Moroccan tea which was a perfect end of the meal. Oh – plus they dont serve any desserts – at least thats what the waiter told me…
Overall a great place to try Kuwaiti food with one of the best views of Kuwait I've seen. Unfortunately I forgot to take pictures of the food, but I did get some of the restaurant! Enjoy!
To know how to search the web is a very important part of our everyday life. However, over 95% of the users have no clue as to how to use it to its full potential. We have all sorts of modes, means and methods existing to improve our online searching experience. If we know the right ways, we will save a lot of time and money. For instance, we use far too many words to do a search which in turn only confuses the search engine; they are ways to be specific in order to get the best results in less time.  So when I heard or rather when I saw that Google was offering a free-of-charge virtual course for a limited time only I simply could not resist.
It involved six 50-minute interactive classes spread over two weeks along with a pre-class assessment, video's for all the six classes explaining how to "solve real, daily problems" using advanced search features which I was never aware off followed by Mid-class assessment after the first three classes and a Final-class assessment after you finish all the six. Each class or topic was followed by an activity like a mini test. And the best part is there's even a certificate at the end of it (see).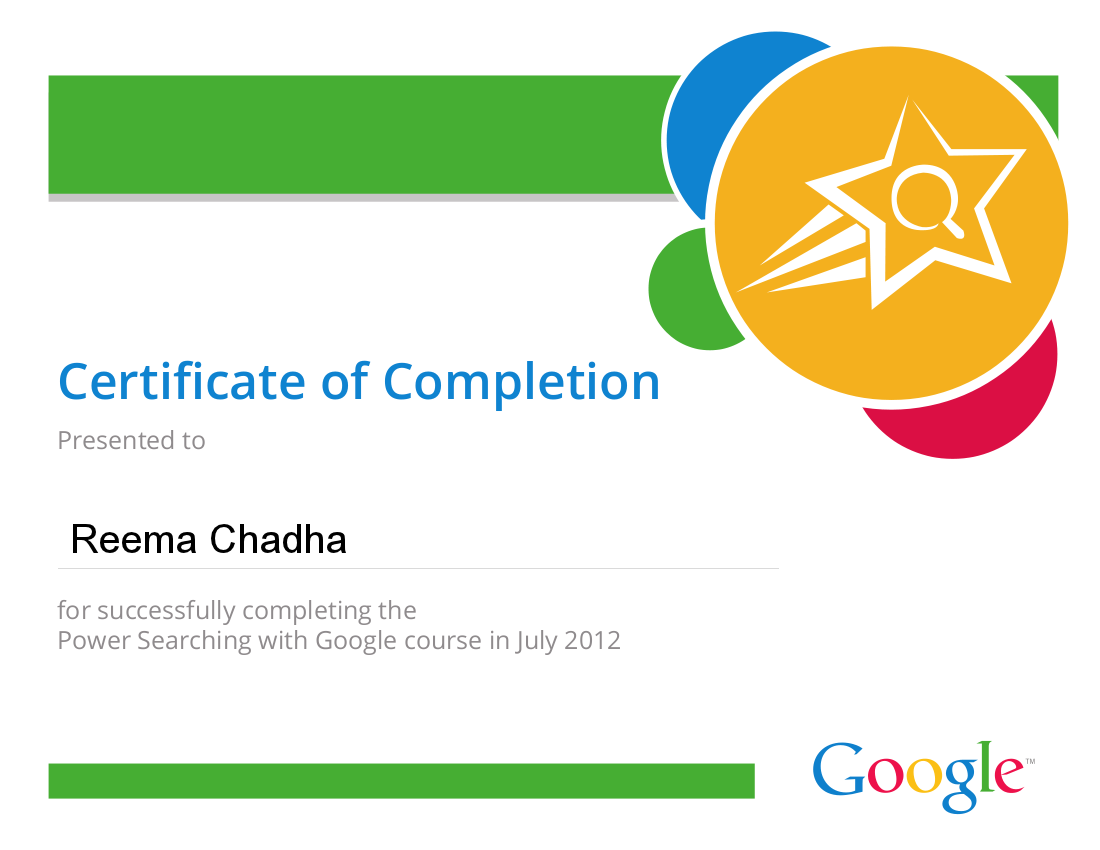 So if you are game for learning new tips and tricks to make your life easier, I would encourage everyone to use the power search tool to find exactly what you are looking for on your first search. It has been designed for all ages. The Power of 30 Search Engines in one search tool. Just Wow!
And now to break it down to a few simple things I learned:
There is a lot more to Google than the eye can see just on the screen.
Google images, can be refined by color, type etc. – yes we all see the blocks of color on the search page but we never used it.
You can always check the information or the reliability of the news by refining by date.
You can limit the search by file type: jpg, pdf, xls, doc, gif, etc.
Google's language translation makes it very easy to find and read info from other countries or topics for everyone.
It lets you quickly glance at the weather, the currency rates, measurements, flights, locating maps, finding books, local movies, tracking shipments, converting or calculating…
I also discovered that Google totally ignores capital letters so the search terms "History of Kuwait" and "hisTOrY oF kuwaiT" would bring up exactly the same results.
It's never too late to try and learn things you don't know.
Thank you Google for going the extra mile to make sure the virtual course was delivered in a very easy-to-do and understand manner. 😉
In 1989, Gunther Holtorf and his wife Christine climbed aboard their 1988  Mercedes Benz G-Wagen to travel from Germany to Africa, where they planned to  complete a once-in-a-lifetime road trip that would last 18-months.
Except the trip didn't last 18-months, it has lasted 23 years, spanned more  than 200 countries and the G-Wagen now has 800,000 kilometers, or 500,000 miles,  on its odometer. That's the equivalent of 20 times around the equator.
The trio have visited everywhere from Alaska to Zimbabwe by way of North Korea,  the Sahara desert, Mount Everest and Siberia in an effort to drive around the  globe. Sadly, Gunther's wife Christine passed away in 2010, but he has continued  to travel the world, as per her wishes.
Read and Watch more on
http://www.bbc.co.uk/news/magazine-18910560
I am totally amazed at such people with so much determination with nil factors bothering them be it age, finance, food, living – Just WOW!! Truly an inspiration. What a incredible journey must say and i love the affectionate name given to the Mercedes Benz G-Wagen "Otto". All this without the help of technology even the cameras he carried are very old models with reels and yet he they achieved so much.. makes me wanna give up my fb account or my mobile … def not my Cannon!!
For whatever reason, we always want to sit down with our kids around and do some art and craft even more during their  summer holidays, and to avoid the heat outdoors…
Here's something that will keep them indoors and keep them busy for a while.
Its quick , simple and easy..
Things needed : scissors, scotch tape, scale, glue gun, double sided tape (transparent), a pen or a pencil, old magazines, cans to recycle and some beads for decoration
Take a empty used can of any kind
Cut equal strips from any old (colorful) magazine
Cover the base with one of the strip all around the can with the help of double sided tape
Take a pen or a pencil and roll the cut pieces of paper strips to get tubes, stick the roll with a tiny scotch tape.
Then glue the paper tube to the can with the help of theh glue gun, repeat all around untill all full
Viola! done – to make it a bit more attractive – decorate the rim with any beads (any color or shape)
And you have just made a holder for your various stationary items..
Happycraft'in!!
For a long time now, I have witnessed thatpeople in general tend to suppress their basic emotions – which is odd considering its emotions that make us who we are.
However those feelings of basic dealings, encouragement, happiness, welfare, health and mostly importantly feeling loved and security should be expressed openly and without any hesitation or shame. But our forced lifestyles, overly committed social gatherings, high stress levels at work, and"I am busy for nothing"attitude leads us to look for recovery using various drugs, painkillers, anti-depressants, vitamins and so on..
Of course in this time and age, the marketplace offers us a wide range of meds in order for people to feel better and recover from the sicknesses, disorders, disabilities or complaints and their related symptoms…. London-based photographer Valerio Loi created human feelings in medicine, and displays it in a set of new images titled Human Feelings as Drugs. Very colorful bottles with descriptive labels of each emotion.
Hope these series of alternative medicines which contain concentrated amounts of human feelings and ways of interaction, really work and fulfill our lack of gratification on a divine level.
This works or not, but definitely their will remind us that sometimes we just need Love, Hope, Empathy, Joy and Peace to lead a Healthier and Happier Life.
Empathy – Empathy is the ability of blurring the line between self and other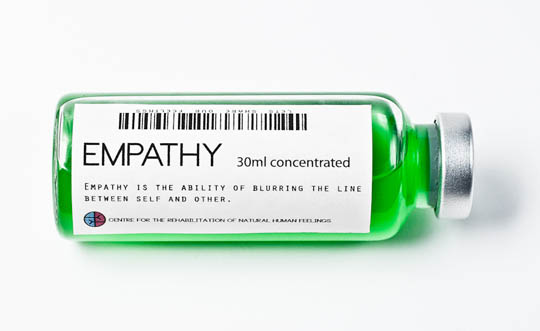 Hope – Hope is the feeling of expectation for a certain thing to happen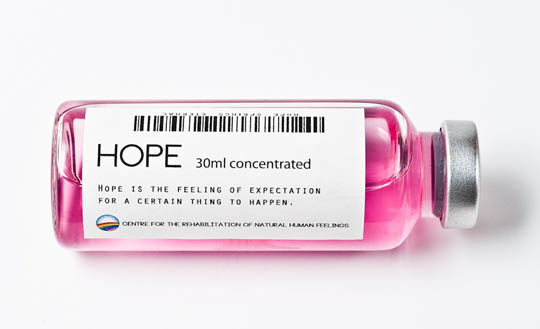 Joy – Joy is a state of well-being characterized by positive and pleasant emotions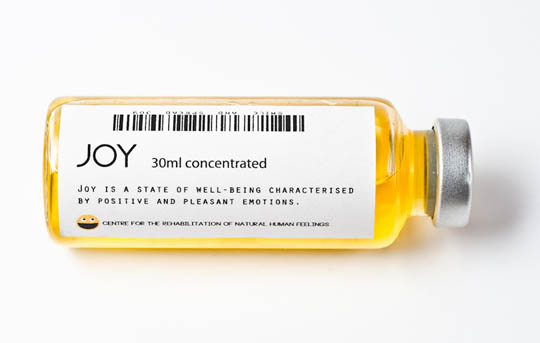 Love – Love is an emotion of strong affection and personal attachment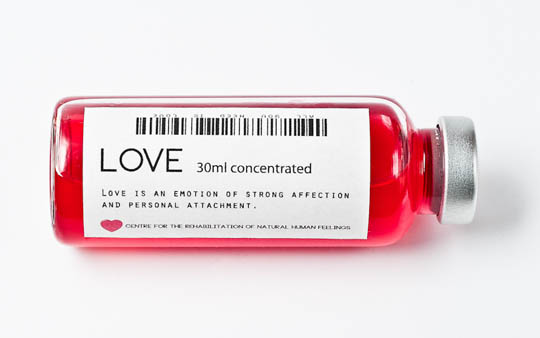 Peace – Peace is a state of mental and spiritual serenity and calmness.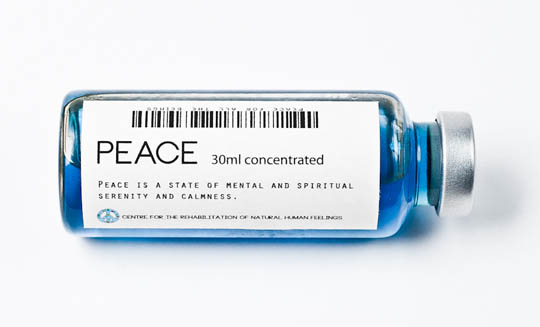 I would be so thrilled to find these on the shelves of the pharmacies, hypermarkets, departmental stores and I think they would also make great gifts to buy and share with others.
To start with just these five would seem very little but a lot of time and efforts are put into it to make it work…
"Feelings do not grow old along with the body. Feelings form part of a world I don't know, but it's a world where there's no time, so space, no frontiers." – Paulo Coelho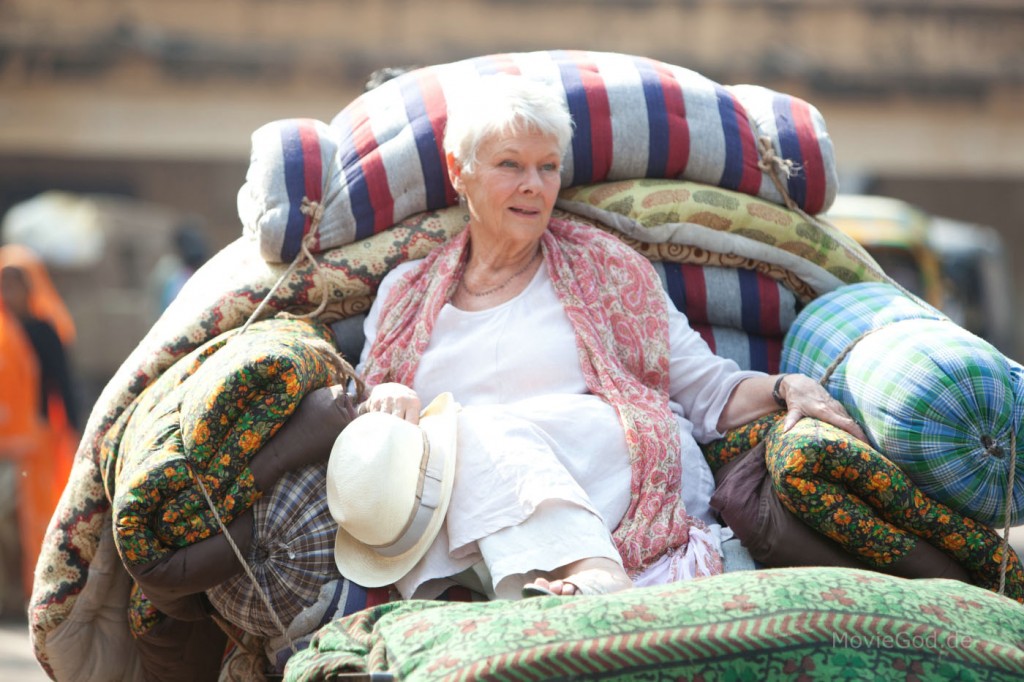 I finally got to watch the much-awaited British comedy/ drama movie "The Best Exotic Marigold Hotel"
It's nice to see such wonderful passionate actors in a different light – the story revolves around a disparate group of English retirees, who abandon they homeland to look forward to a much deserved, much awaited and seemingly luxurious vacation in Jaipur, India. As usual in our good old India – nothing is as promised, becox the so called seeming lavish hotel is badly in need of repair.
However disappointed (phones not working, no doors, birds in the room, constant leaking of the taps) and however troubled (spicy meals) they seem, somehow time seems to heal and provide comfort to all the seven British pensioners.
The characters are quite colorful, especially Judi Dench as a widow in financial straits after her husband's death and the loyal if unhappily married husband (sweet and funny) and his perpetually dissatisfied wife (uff!). Not to forget the enthusiastic attitude of the hotel's manager Sunny (Dev Patel), the entrepreneur behind the whole mess. (who doesnt want to give up his dream rather his father's dream also inspite of his mothers persuasive nature for him to move to Delhi.
The moral of the story is – Everyone knows to love. Everyone knows its ok to dream and Everyone knows when to let go of things that no longer belong to you. Lovely soundtracks and it has one of the best quotes I've heard in some time – "Everything will be all right in the end. So if it is not all right, then it is not yet the end"
A quick sneak peak : http://www.imdb.com/rg/s/4/title/tt1412386/#lb-vi929996313
Enjoy! 🙂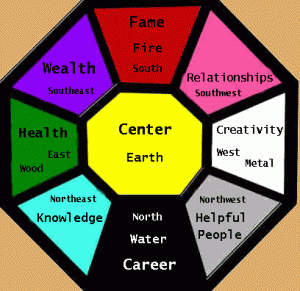 I am sure at some point of time we all have read and heard about Fengshui (http://en.wikipedia.org/wiki/Feng_shui), it is only 3000 years old. In other words, it is not rocket science at least if you wish to practice with just minor adjustments or details. What I personally love about Fengshui is that
"Feng Shui is the Taoiste Science of Harmony.
Harmony comes when the place where you live exactly
corresponds to what you want and to who you are.
Your harmony is unique because your are unique."
I do not need to stress on the Yin and Yang or Qi or Bagua however I am just going to share a few basic tips from time to time to start off with, for the essential areas in our house:
BATHROOM – a very important place, especially first thing in the morning.
• Keep the pipes in the bathroom in good working order.
• Monthly place 1/2 cup of baking soda down the drain and follow with 1 cup of vinegar. Let sit for approximately 10 minutes and flush with hot water from the tap.
• Keep the bathroom door closed at all times and the toilet seat down.
• Display bamboo and have it reflect in the mirror.
• Have good quality towels in the bathroom to show wealth and abundance. Gold towels are great for bringing this energy forth.
• Fresh flowers and plants are great for uplifting and cleansing the chi.
If there is no window in the toilet hang a mirror above the toilet.
KITCHEN – another necessary area of the house for your morning Cuppa..
• According to Sheffield Feng Shui Course instructor Marelan Toole, good kitchen design is based on a traditional triangle model, with the sink, refrigerator and range making up each point of the triangle. There should be a 6-8 foot distance between each appliance; this allows for maximum convenience and a minimum of repeated moves. Because you'll have that space between each of the major appliances, it should be easy to adhere to the Feng Shui principle of having fire elements—such as the stove and microwave—separated from water elements—such as the refrigerator, dishwasher, and sink. They can be separated by something made of wood, or by something representative of wood, such as a plant or a painting of a plant.
• Feng Shui believes that windows should not be placed over stoves because heat represents prosperity, and you don't want your prosperity flooding out the window.
• Plants with rounded leaves attract customers (for the restaurant business)
And today's last tip for the entrance of your HOME SWEET HOME
• Put a pile of gold near the main door. You can use a pile of rocks painted in gold. This is especially beneficial for houses whose main doors are located in the NE or SW sector.
Good Teachers connect theory with life. Please take the time to watch these videos for "Children Full of Life". There are in five parts.
In this award winning documentary, Mr. Kanamori, a Japanese teacher – teaches his children how to be compassionate, determined, thankful, everything about life, most importantly "to be happy". A very unique way to teach, approach and connect with these little souls. He encourages the the 4th graders to write and talk about their inner feelings and share it with the classroom, this helps the children to realise the importance of caring for one another. Allow your children to care for they friends – no matter if they are in the same school, class, activity, bus, building or even community.
Just like the family is a very fundamental part of the child, so are their early years in school and role the teachers play in their lives. We can shelter our children from disappointments, however we should also let them be a part of them, by sharing them, talking about them, acknowledging them. If you do not face the disappointments of life with them now, they future disappointments will be more devastating.
Some things happen only once in a lifetime, try to avail every opportunity and live the moment if the moment makes you happy and teach the same to your children… It is absolutely alright to be naughty but be nice and be safe. Kids – you can crack jokes and be funny however do not crack jokes or bully other children. Let the children share they opinion not that of they mother's or father's..
Part 1/5 – http://www.youtube.com/watch?v=armP8TfS9Is
Part 2/5 – http://www.youtube.com/watch?v=Oc7S8HAfDzk&feature=relmfu
Part 3/5 – http://www.youtube.com/watch?v=jd7YWx7idfE&feature=relmfu
Part 4/5 – http://www.youtube.com/watch?v=OEW65OKRiAk&feature=relmfu
Part 5/5 – http://www.youtube.com/watch?v=5FGdXEBcdh4&feature=relmfu (very touching!!)
Remember, they are children they will complain, misbehave, argue, make stupid faces… as long as deep down their know the values of respect, bonding with they old and new mates, making efforts is all that counts.. Hope it was worth sharing the videos!!
I remember reading this about this young lady back in 2010, and for no apparent reason, I thought of this lady and wanted to know the outcome of her sacrifice.. Was she still alive? Did she get justice? Did she achieve her goal? Well I guess not!!
To be honest, back then I didn't think much about spreading the word, nor did I blog.. but now I feel differently…
Please read and share, it is about an Indian woman who has spent the last 12 years of her life fasting (hunger strike) against the Armed Forces Special Powers Act and has vowed not to call off her protest.. However it doesn't seem that she's being noticed at all…
No eating, no drinking, no combing her hair, no looking in the  mirror.. Hats off to her determination and I sincerely hope the government wakes up and doesn't turn they blind eyes on her Fight for Humanity!!
Link : http://www.odditycentral.com/news/indian-woman-has-been-on-a-hunger-strike-for-the-last-12-years.ht
Iron Lady of India : http://en.wikipedia.org/wiki/Irom_Chanu_Sharmila