Day Three – more than one reason to Celebrate today !!
I have to admit, when I started my blog a year ago on 7th March 2011, I wasn't sure what I would do with it or if I would even have something to share and keep it going for this long, but today I can truly say "There are two mistakes one can make along the road – not going all the way and not starting ~Buddha~".  I would like thank some of my real close people who have always made the time to stop by here and to the few subscribers that I have, who have also expressed they thoughts and opinions in a very positive way. So Happy One year Anniversary to my Blog!
Now that we have got that out of the way. Today reminds me of another quote: "In our lives there is a simple colour, as on an artist's palatte, which provides the meaning of life and art. It is the colour of love."
So here's wishing everyone a Loving, Colourful and Blessed Holi!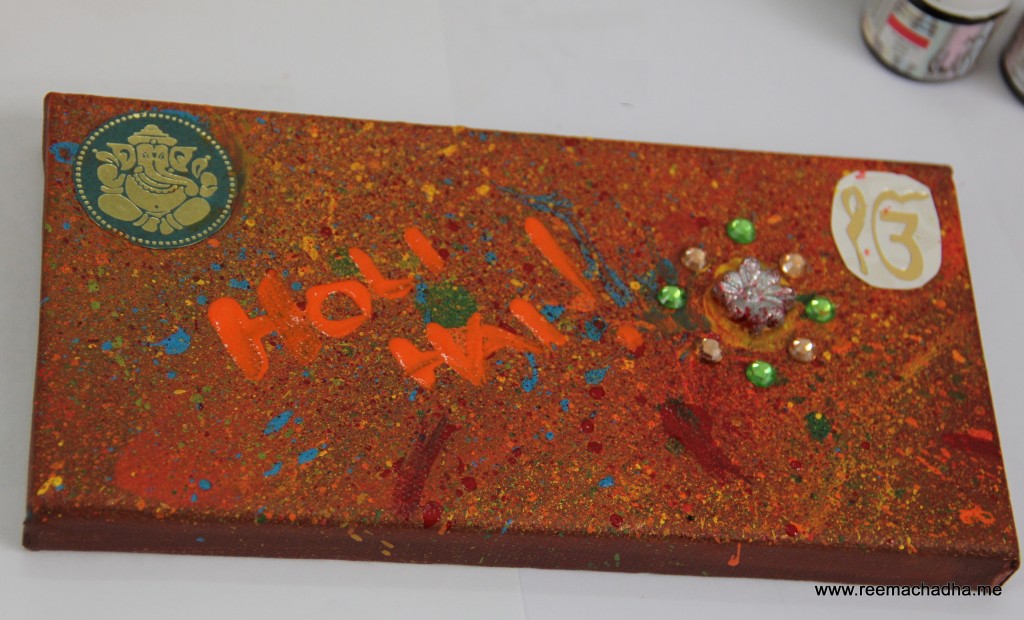 I have used the Splash Painting Technique – its one messy way to paint unless you have all your area covered nicely!! But lots of fun splashing various colours just to get the right effect.. Since it is my first time at this I used an 18" rectangle canvas with lots of Acrylic paints and a toothbrush, which is more useful for this technique than a paint brush… and (cuttings of Ek Onkar and Ganeshji are from some old weddings invitations cards lying at home and to give the ethnic look I put in the little silver piece and around it a few of my fav stick on stones..
And another reason to celebrate today is the INTERNATIONAL WOMEN's DAY!
Margaret Thatcher
"If you want something said, ask a man; if you want something done, ask a woman".
Having said that it's not about acting or being superior to the other gender. It is not about who can cook better, who can do the dishes first, who can earn more or even who knows how to change the diaper competently but it's about recognizing the importance and the capabilities of the Women these days, and giving them the credit they truly deserve!!