I recently visited the newly opened City Center in Dhajeej, and when I saw a container of Ching's Secret Schezwan Bhel sitting on the shelf, I couldn't resist but pick one up (yup just one).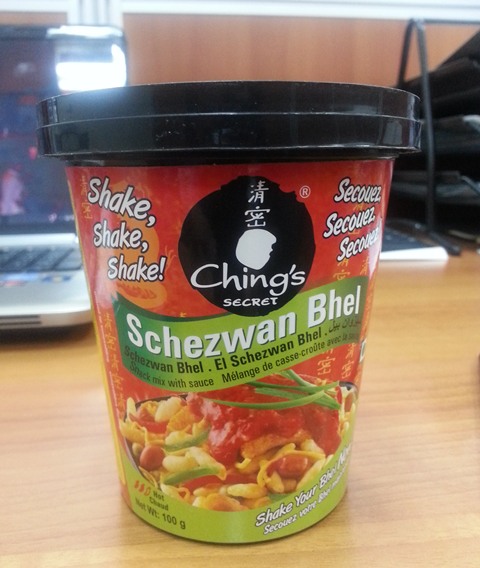 I was curious as to what kind of Shake, Shake, Shake – Secouez, Secouez, Secouez (snack mix with sauce) would taste.
Well the container consists of:  Bhel mix, Schezwan sauce, spoon and tissue… All you got to do is open, mix and eat; you actually have the container to mix it in!! More like instant noodles – the only good thing is you don't have to wait for it to cook, rather if you wait too long after you have mixed it up; it gets very tasteless, mushy and soggy!!
If you don't mind the spicy sweet sauce (and I mean spicy (for me) then go ahead a try it on the crunchy corn flakes and the rest of the ingredients…
Would I buy it again (hmnnnn I guess not)
Is it worth a try (of course – must try everything)
Have you tried it already – let me know…