The irony of life, we always start paying attention to life and esp people when they are gone!! I am sure just like me there are millions of people out there in the world who are actually searching for his all old, all time favourite songs and will be amazed to even notice some songs we actually forgot or just realised that it was actually sung by the Bee Gees..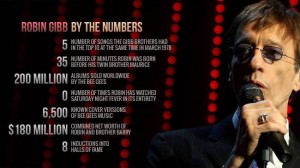 Well – i am sure Bee Gees will end up with more likes, searches and even more sales to follow … however unfortunately Robin Gibb will never find out … "talented beyond even his own understanding".
I hope you all enjoy the below video from One Night Only, these are almost 30 of his top all time hits..
Watch on Youtube: watch?v=x1iTp6aWm_Q&feature=related
Track Listing
1. You Should Be Dancing
2. Alone
3. Massachusetts
4. To Love Somebody
5. I've Got A Message To You
6. Words
7. Closer Than Close
8. Islands in the Stream
9. One
10. Our Love (Don't Throw It All Away)
11. Night Fever/More Than A Woman
12. Still Waters
13. Lonely Days
14. Morning of My Life
15. New York Mining Disaster 1941
16. Too Much Heaven
17. I Can't See Nobody
18. Run To Me
19. And The Sun Will Shine
20. Nights on Broadway
21. How Can You Mend A Broken Heart
22. Heartbreaker
23. Guilty
24. Immortality
25. Tragedy
26. I Started A Joke
27. Grease
28. Jive Talkin'
29. How Deep Is Your Love
30. Stayin' Alive
31. You Should Be Dancing
They say that in the second before our death, each of us understands the real reason for our existence, and out of that moment, Heaven or Hell is born. Hell is when we look back during that fraction of a second and know that we wasted an opportunity to dignify the miracle of life. Paradise is being able to say at that moment: "I made some mistakes, but I wasn`t a coward. I lived my life and did what I had to do." Paulo Coelho