"Mezzo" is a contemporary fusion  restaurant. I was thrilled to go there for the soft opening to sample the fare and drinks. As someone who loves to eat and review food, I was totally looking forward to the evening and hence I starved myself the whole day. Of course they are in their soft opening stage which means a limited menu and lesser working hours.  Both the front house staff and the kitchen staff seem very friendly and open to your honest appraisal of the experience. I personally loved the decor and especially the one wall painting done by a Kuwaiti Artist. 
To start with we were served with hot Mushroom cappucino soup.. I am not a mushroom person, but I actually enjoyed it.
For my starters I ordered the Warm Goat Cheese and Walnut salad (fried goat cheese disc with frisee, barbeer and honey pommery mustard vinaigrette. Something I had not had before. Highly Recommended.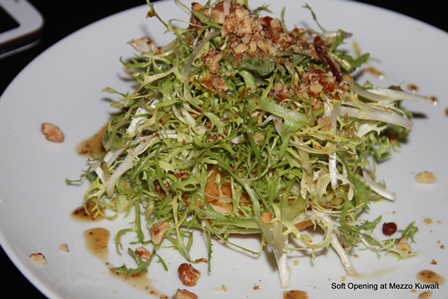 From all the drinks that were mentioned on the menu, I opted for the Lemongrass Ginger Mojito, again I would say by far the best Mojito I have tasted in a long time.
 After the chitter chatter and having finished with various small plates, we decided to order our medium plate (main course dinner). I have never tried this dish before, however the name and the aroma of it on the table beside me, helped me with my decision to order Chicken Katsu Curry Risotto. (creamy risotto with Katsu curry and crumb fried chicken garnished with pickled onion and fried leek)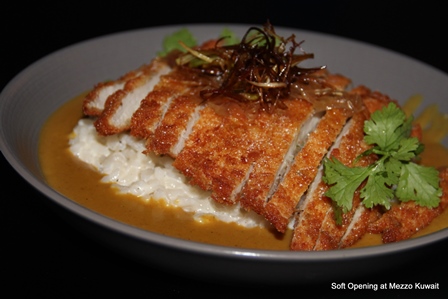 And my not so adventurous son had a Brioche Burger with Beetroot Dijonnaise (burger with onion jam, white cheddar cheese and light batter fried onion rings on butter glazed brioche bun served with homemade fries. (the only difference my son had it with just the patty and cheese, talk about keeping it simple 🙁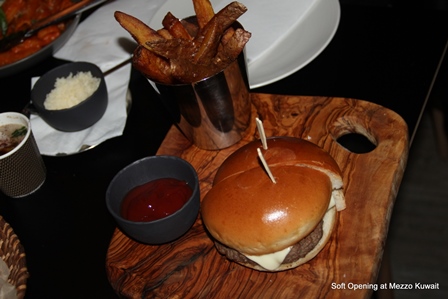 Some of the other main dishes offered were – Hoisin Sriracha Tenderloin, Mezzo Rigatoni Pasta, Truffled Wild Mushroom Pappardelle Pasta and Lime & Pomegranate Spaghetti Bolognese, so I am definitely going back some time soon try them out.
For desserts, the Chef served us the specials of the day which was Banana Pudding with Ice cream topped with caramel sauce and nuts. It was a tad to sweet for my taste, but the other guests quite liked it , so I guess I was the odd one out.
And finally I tried Berries dessert which was also one of the Chef's Special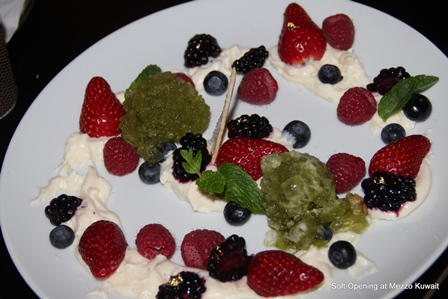 All in all I simply loved the place , the decor and the ambience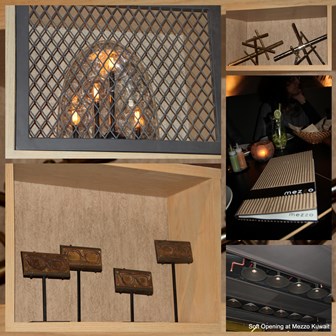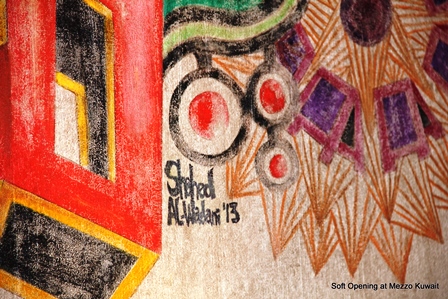 I strongly encourage everyone to try Mezzo, location is at KIPCO Tower, Sharq, Ground floor. Timings : 7:00pm to 11:00pm.
For reservations call 22943209
Follow them on Instagram: Mezzo_kw / Twitter: Mezzo_kw / Facebook: Mezzokw